mBank (part of Commerzbank) is one of the most important banks in Poland. The scale of Ambasada-mBank cooperation can be best expressed by the numbers: nearly 120 briefs a month due to full-service support, numerous awards (effie, ktr, kreatura), and above all sales effects of subsequent campaigns, translating into an increase in the number of customers from 300,000 to 3,000,000 in 9 years.
Piggy
An advertising campaign of mSaver program.
The campaign aimed at communicating mSaver, a cutting-edge saving program.
The aim of the campaign was to communicate mSaver, a cutting-edge saving program. The main character starring in the spots and showing up in other promo elements was Józia, the piggy, who grew bigger each time someone paid with the card, withdrew cash or made transfers. The activities covered TV, Internet, outdoor and ambient. Shortly after they had been started, the sales of the offer almost doubled.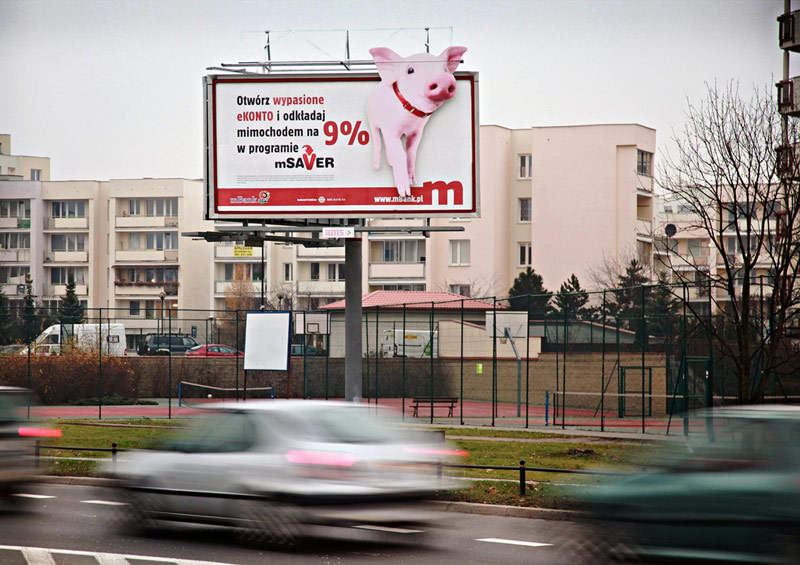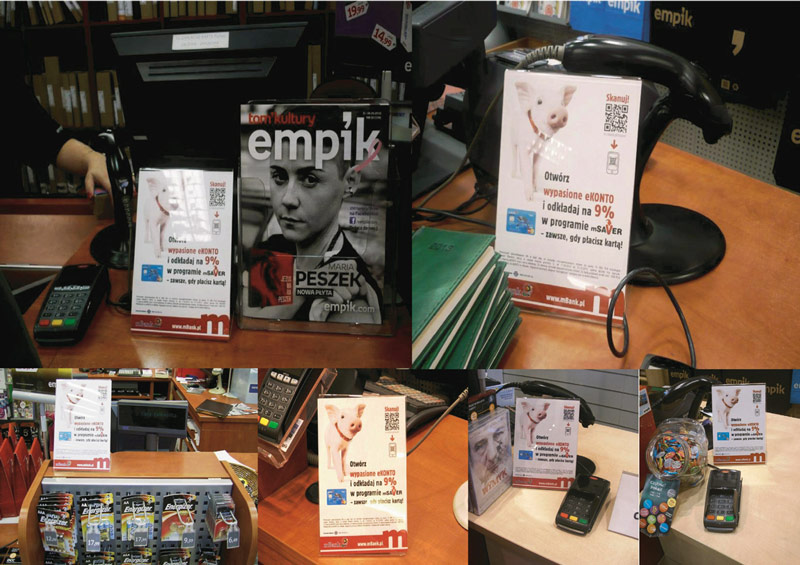 Lumberjacks
A campaign of car insurance offer.
The competitive advantages of the mBank insurance offer were presented in the "Lumberjacks" campaign. Its characteristic features are expressiveness, surrealism and humor based, among other things, on the word game. Media: digital, outdoor, print, TV, ambient.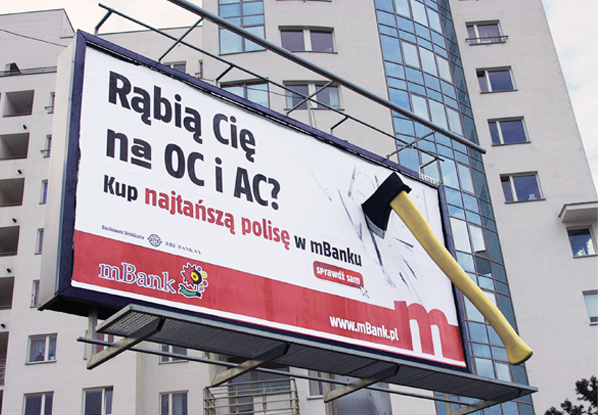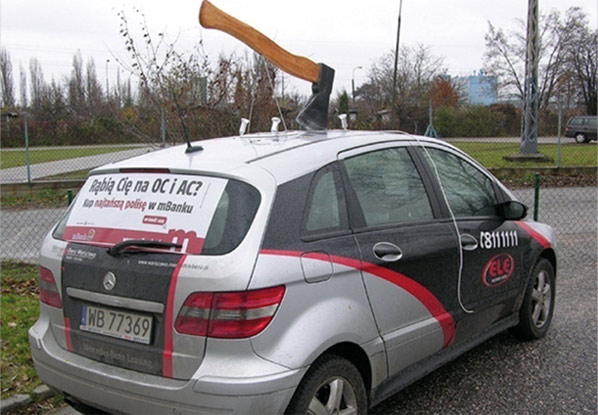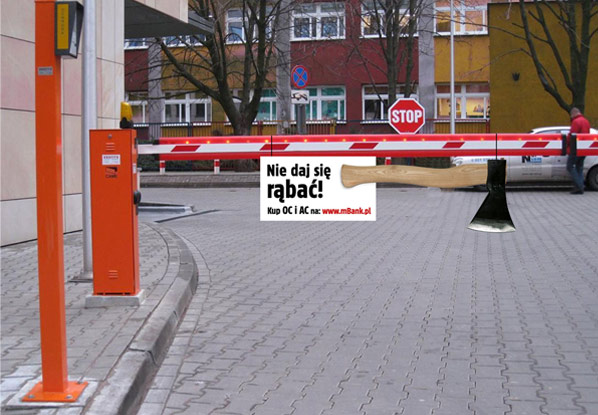 Alien
An advertising campaign of car insurance offer.
A sequel of mBank advertising campaign, this time promoting Supermarket of Collision and Third Party Vehicle Insurance. The ad is inspired by communication traditions of mBank, combining a clear marketing message with absurd contextual humor. Media: TV, online.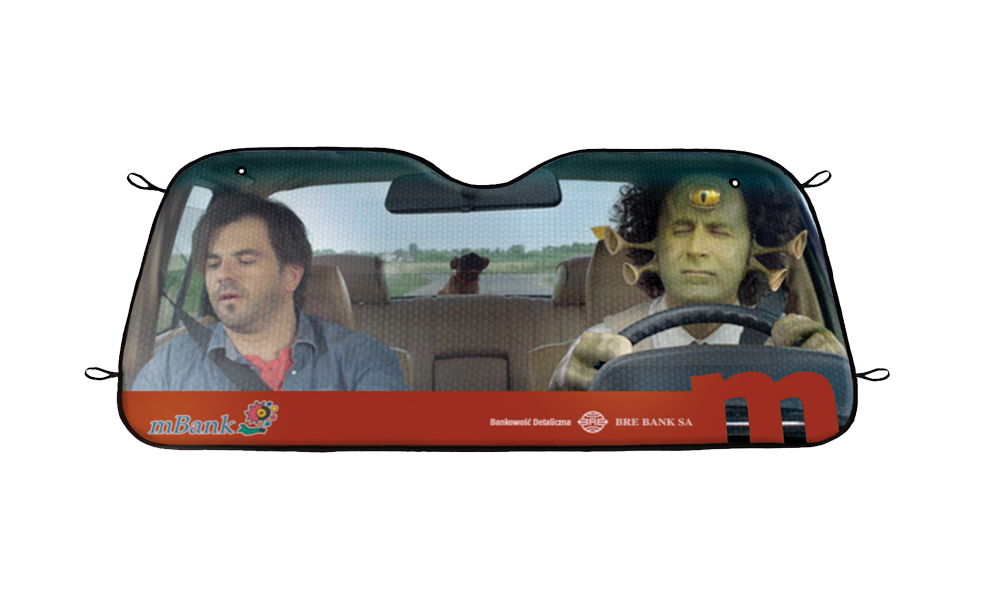 St. Christopher
mBank vehicle insurance – TV commercial.
Everyone knows that St. Christopher takes care of drivers. Thanks to our commercial, everyone could learn that mBank Automobile Insurance Supermarket takes care of their budget, i.e. small premiums.
Priest
An advertising campaign of mBank personal account.
Whilst the majority of banks showed celebrities in their TV spots, mBank decided to play with the advertising convention. The hero of our commercial was a priest looking for the truth about finances. This is how one of the best advertising campaigns in the brand's history was created, in terms of results.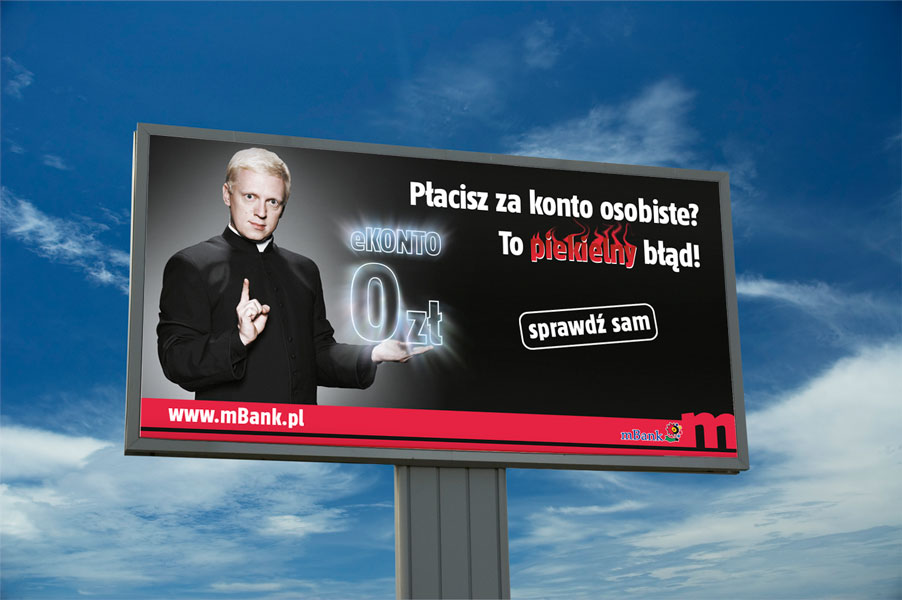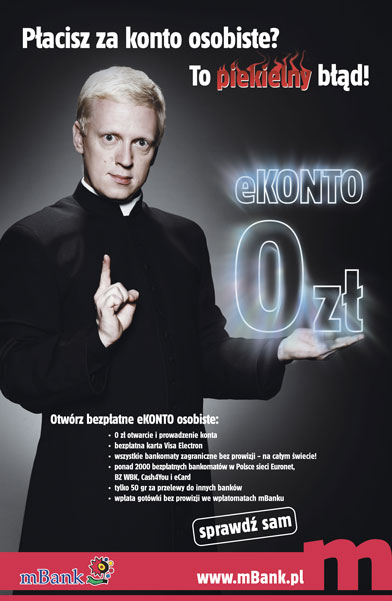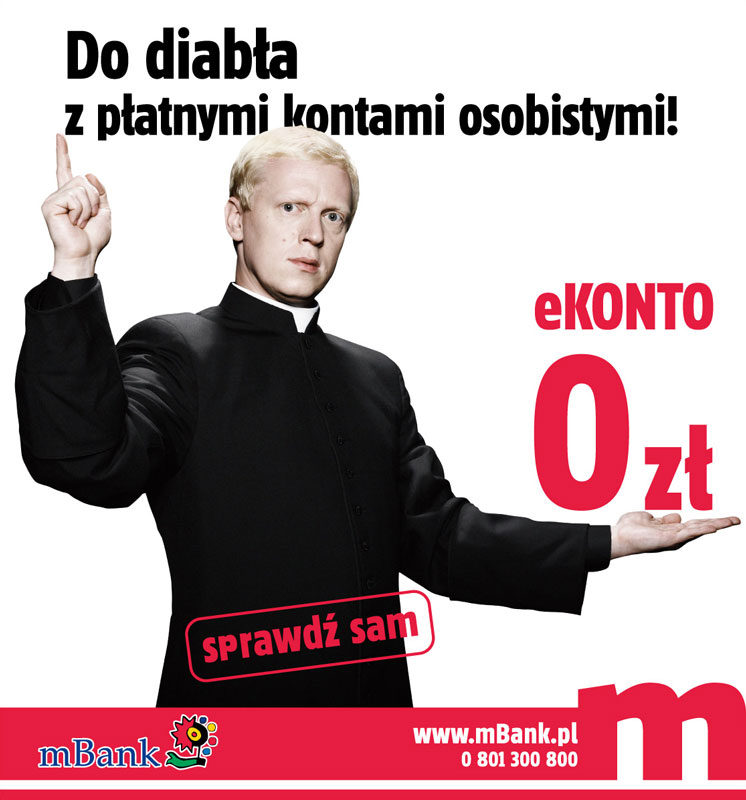 Cardinal
An advertising campaign of mBank car insurance offer.
According to the unusual hero from our commercial, quickness and convenience are not a sin, but an excellent reason to go for mBank offer.
Master
An advertising campaign of mBank personal account with money back option.
One of the many mBank campaigns created by Ambasada. This one with emphasis on money back option. Media: digital, outdoor, print, TV.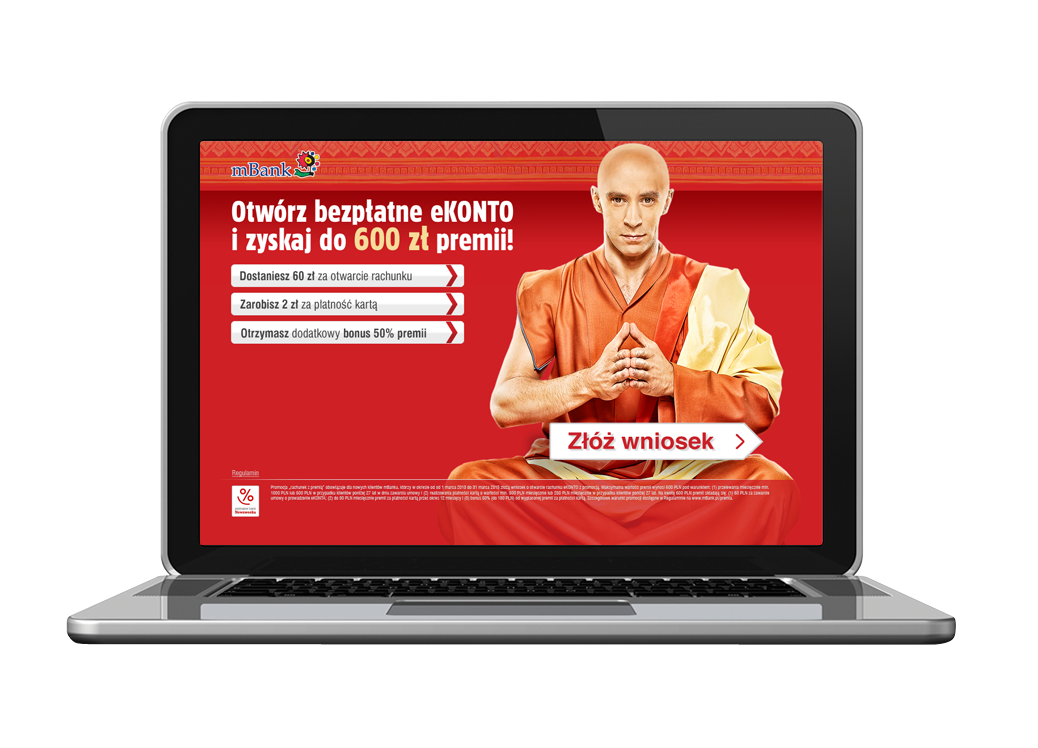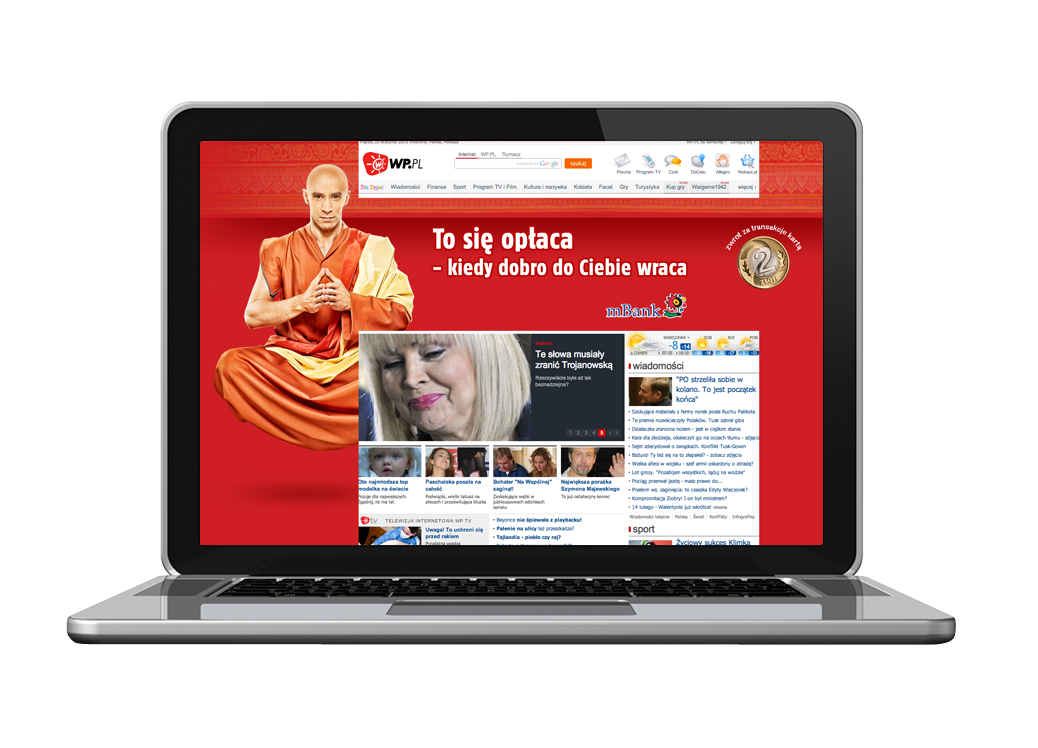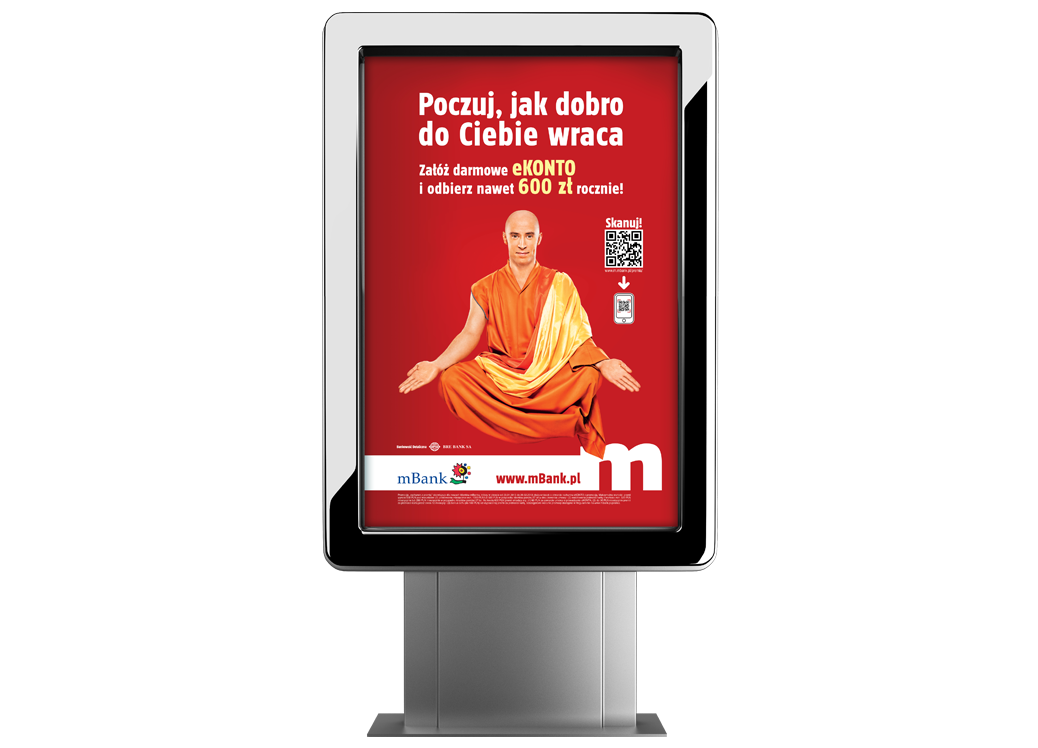 Mr. Wojtek
An acquisition campaign 2012.
The goal of this campaign was to acquire new customers by communicating eKonto promotional offer with mSaver program and a discount for car insurance. The offer was illustrated with the story of Mr. Wojtek – an inconspicuous man with the appearance of an intellectual who attracted women like a magnet. Why? We do not know whether it was due to his charm or the potential of his personal bank account. The campaign encompassed TV spots and online activities.
Mythbusters
mBank communication platform in 2011.
One of the most important objectives of the "New mBank 2011" campaign was to create a format that combines messages related to various aspects of the offer. The series of spots presented three characters who were analysing the market situation and revealing stereotypes of the world of finance. The TV campaign was supported by online, outdoor and contextual ambient activities.
Leakage
An integrated campaign of eKonto.
This campaign, comprising TV spots, press, ambient, context-sensitive stickers near water, has contributed to the significant overrun of sales targets by mBank. A special, ambient version of the spot for cinemas introduced the interaction between the main character and a hired extra person sitting among the viewers. In addition to traditional media, we have also created dedicated posters, stands and stickers for cinemas. The integrated online activities included running a blog of the spot's hero, YouTube videoblog and profiles on social networking sites.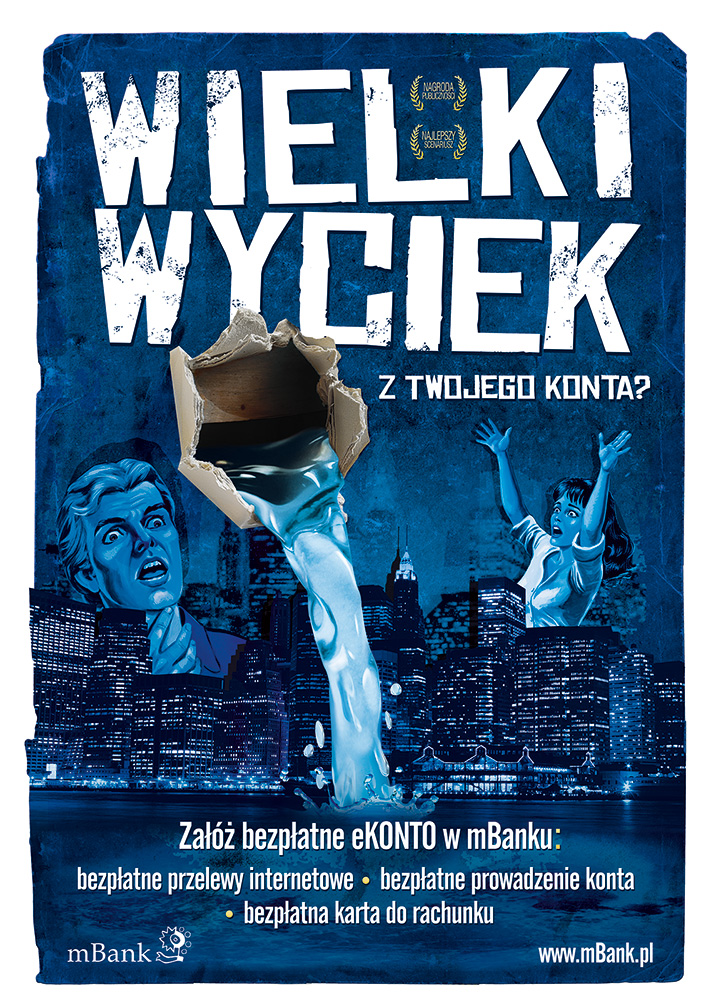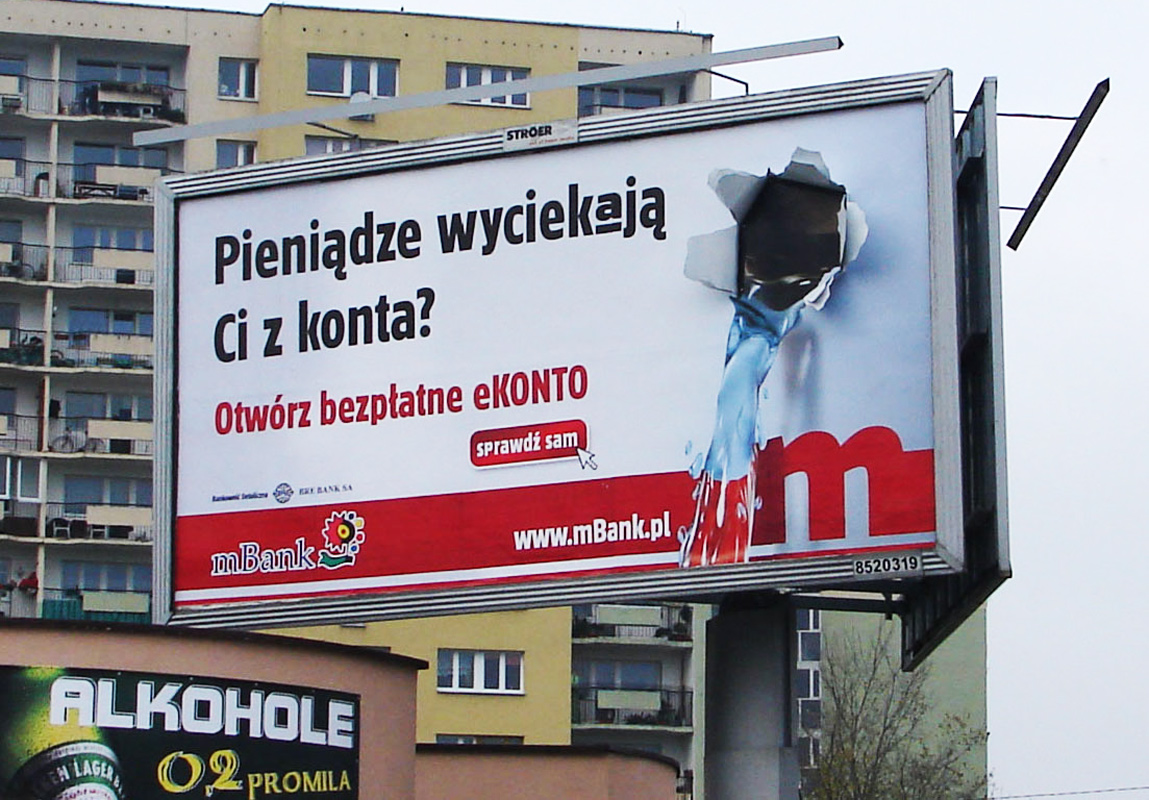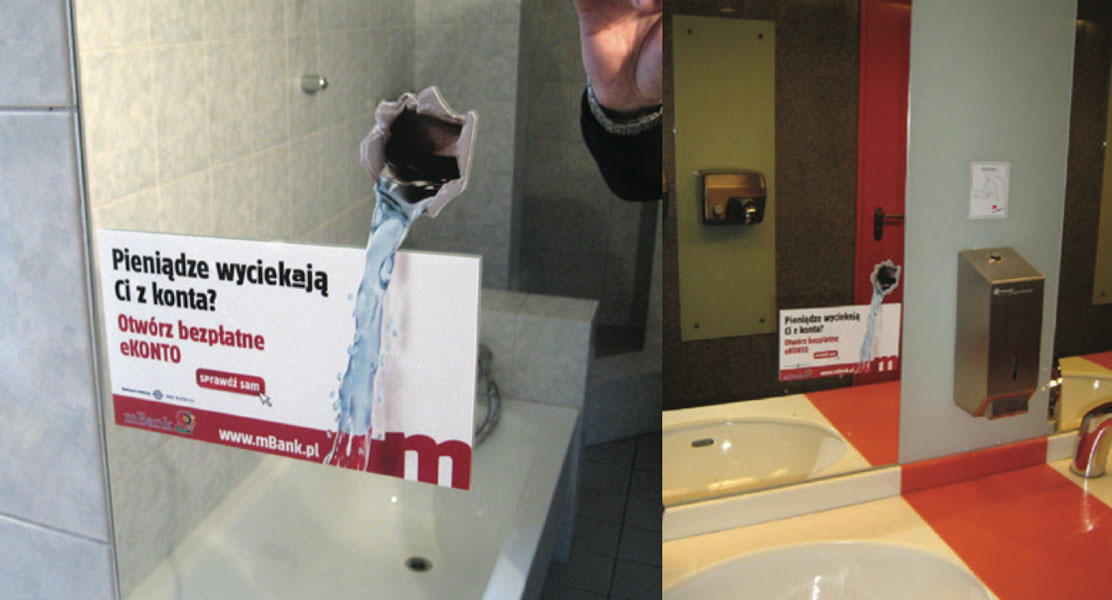 Cool account
A campaign of eKonto in mBank.
A well-defined character and a simple message – a multifunctional account in mBank, so different than any other "cool" accounts. Media: TV, Internet, print and outdoor.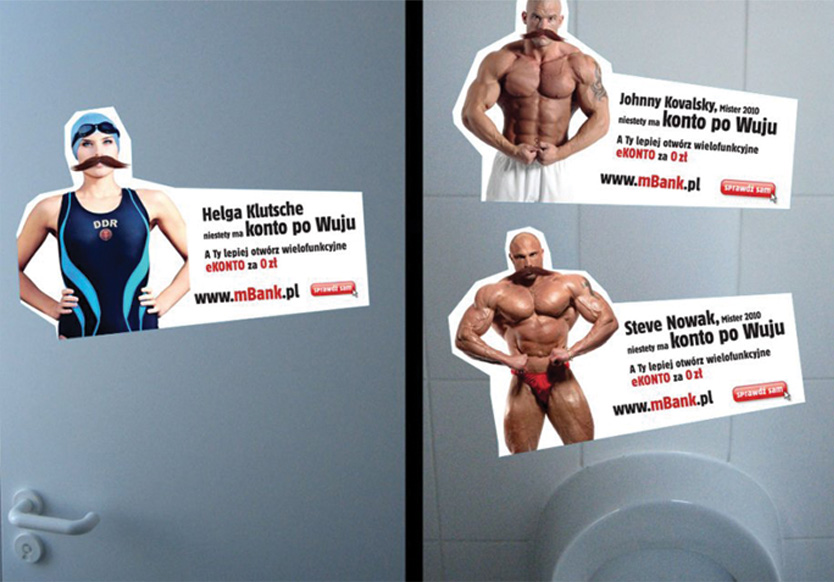 Garbage trucks
An ambient and outdoor campaign of eKonto in mBank.
The campaign was supposed to make people realize how much money they lose while using accounts in various banks, and encourage them to check eKonto in mBank.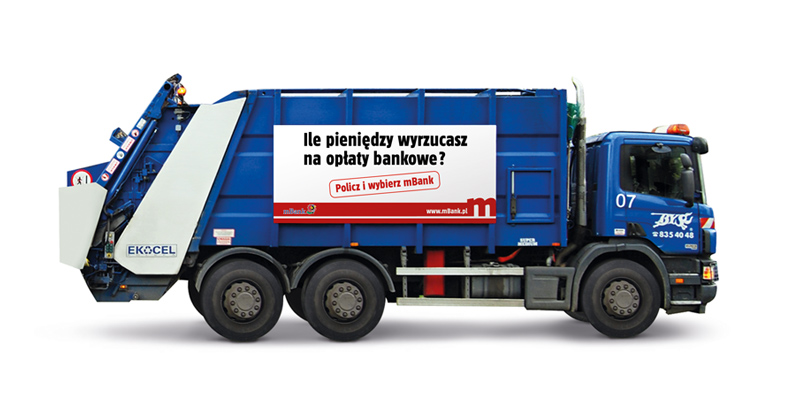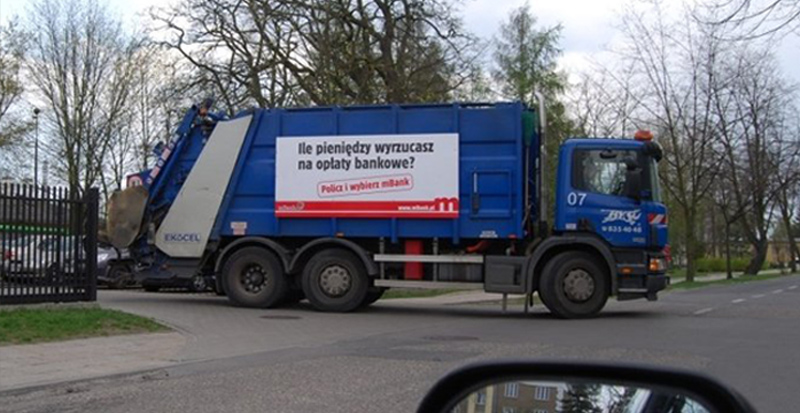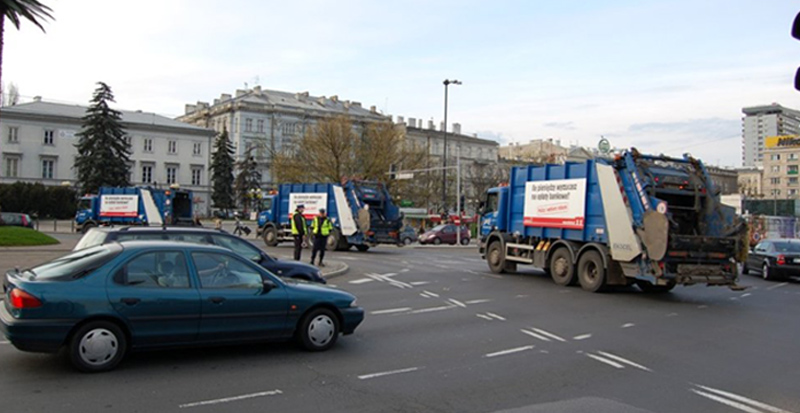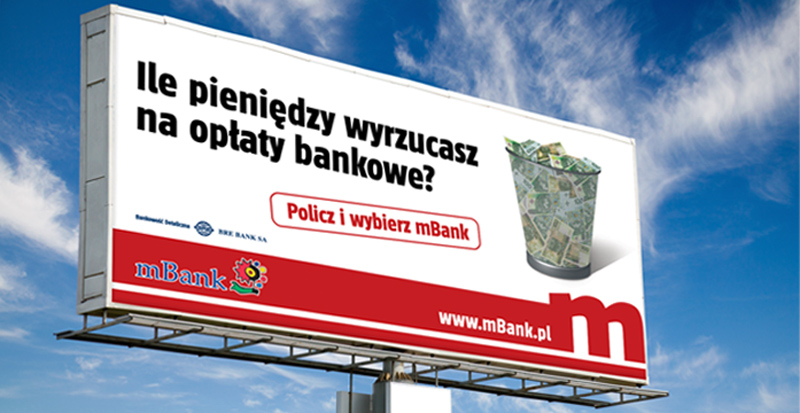 Grzegorz Halama
mBank viral spots.
In cooperation with the cabaret actor Grzegorz Halama, we created a series of viral spots for mBank under the slogan "Instead of chatting and promising."
You don't have to believe in advertising
The first TV campaign made by Ambasada for mBank (2005).
The campaign was recognized by "Gazeta Bankowa" for the best advertisement of a financial institution. The spot encourages you to check the information yourself and plays with the advertising convention – on the one hand it is an unusual testimonial, but on the other it refers to the lack of trust of the recipients, especially to their limited confidence in advertisements. "You do not have to believe in advertising. Check it out "is the message that has become the most important element of mBank communication platform for many years.